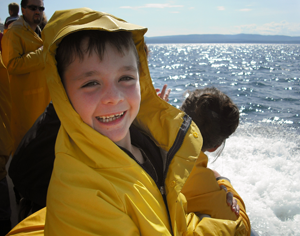 Cruise service users are required to pay entrance fees to Forillon National Park.
A minimum of 6 adult customers is required on board the Narval 111 for a departure.
A minimum of 4 adult customers is required on board the Rocher Le Vieux for a departure.
You must arrive at our ticket office 30 minutes before the scheduled boarding time to pick up your ticket.
Should we need to cancel a departure due to strong winds or thick fog, a full refund will be provided. Clients may book another cruise according to availability.
If you book for a family for the Narval 111 and you have a child 2 years and under (free), you must also book for him because he is a passenger under maritime law.
We go out rain or shine.
We provide raincoats free of charge or sell them at our ticket office for customers who want new ones.
Please dress warmly (long pants, closed shoes, two warm layers and a raincoat), even if the weather is nice.
Sometimes footwear can get wet because of splashing, it is best to plan for a dry change of shoes or wear something waterproof.
The cruise lasts about 2h30.
Wear sunscreen!
Pets are not allowed on board.